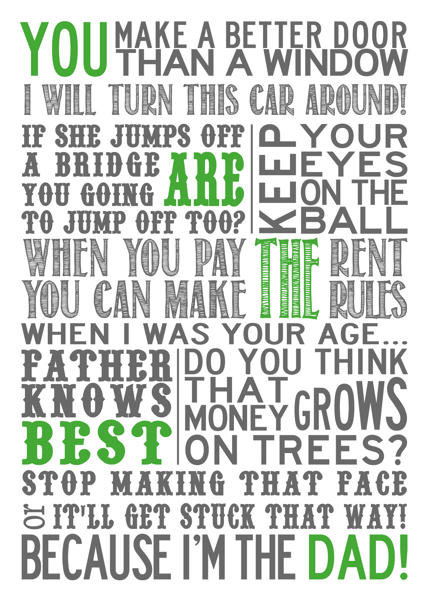 Happy Father's Day
to all of you fathers out there, including Mr. H who is celebrating his first official Father's Day! I'm a little late on my post, but I still wanted to share a little about my own dad. My dad was always there for me
(even when I was a teen and probably didn't want him to be
), and I don't think I could have asked for more.
Like my mom, he
NEVER
missed an event- every basketball game, softball game, color guard contest (yes, I was in the color guard), show choir competition (yes, I was in show choir, or "glee club" as it is now more popularly known), concert, or musical performance, he was always there supporting me. He was the
overprotective
dad who wouldn't let me drive an hour away to visit a friend even after I was in college, and I'm
pretty
sure he was cleaning his
guns
or sharpening his
knives
when my future husband (then 18 yrs old) came to our house to meet the parents for the first time (oh, and did I mention my dad is also a Marine Corps Veteran:).
my dad holding Delaney for the first time
Here is a list of some of my favorite memories I have of my dad

:
1.
When we were kids, he would always have candy in his pockets. The first thing we would ask him when he walked in the door was "didja bring us candy or gum?" He worked on construction sites, so they were normally
melted
or the gum was stuck together and had lint on it, but we still thought it was a treat.
2.
During the summer, we would take a little fishing boat onto the local reservoir and go "fishing." There were 5 of us on a small boat, and although my dad had all the special fishing equipment, never seemed to be able to catch a fish. I think that having 3 small kids moving the boat around
probably
had something to do with it.
3.
Although other families were going to Florida for summer vacation, we normally went camping, and it was just as special to me as a kid. Dad would set up the two room tent, which I thought was a
mansion
in the camping world and we'd strap a canoe to the top of the car and go canoeing at the campsite.
4.
My dad took us on bike rides
ALL OVER
our small town. We would ride to get ice cream, ride to the library, ride to the car wash and look for any change that people might have dropped, and then take the change over to the railroad where would leave a quarter on the tracks. The next day, we would go back to the railroad and find the smashed quarter.
5.
We bought a dalmatian, named Oreo, when I was probably 7 or 8. My dad would strap Oreo to a sled during the winter and have him drag us around the icy streets.
6
. My dad made a giant telescope when we were kids, and in the summer, we would spent evening looking at stars, the moon, and even distant planets, which would always draw in the neighborhood kids.
7
. In high school, my dad went as a chaperon to New York City on a band trip with me. Although most teenage girls would be
mortified
, it made me feel safer that my dad was walking around the streets of New York with me and a group of teenagers rather than with some adult I didn't know. We had an amazing trip, including seeing our first Broadway musical.
Although there are hundreds more, these are just a few that stick out in my mind. I look forward to when Delaney is older and gets to form her own memories with her grandpa.
...oh and one more note about my dad. I appreciate that on

FATHER'S DAY

he is willing to grill hot dogs when it is pouring down rain.
Thanks Dad!!!